Fillaree
Regular price
Sale price
$42.00 USD
Unit price
per
Sale
Sold out
Get the best of both worlds with our biodegradable liquid soap! It's a luxurious hand soap and an effective body wash in one. Made with organic vegetable oils and quality essential oils, it's perfect for use in both your sink and shower. Shop now and upgrade your hand and body care routine!
Make sure you grab a compostable sponge to create the best possible lather. Zero Waste Shower Routine, for the win!
Home Refill System includes
*64 Fl. Oz. Half Gallon Returnable Reusable Refill 
*Forever Spout 
*Reusable/Recyclable/Compostable Box 
Refill your spray bottles over and over again with ease! When the refill runs out, simply rinse it out and save the spout for next refill. Then, send it back to us with a prepaid return label once you've collected 3-5 empties in any box. It's an easy and eco-friendly way to keep your home clean and reduce waste.
REFILLS ALWAYS SHIP FREE!!!!
SUBSCRIBE AND SAVE UP TO 10% OFF! 
Share
View full details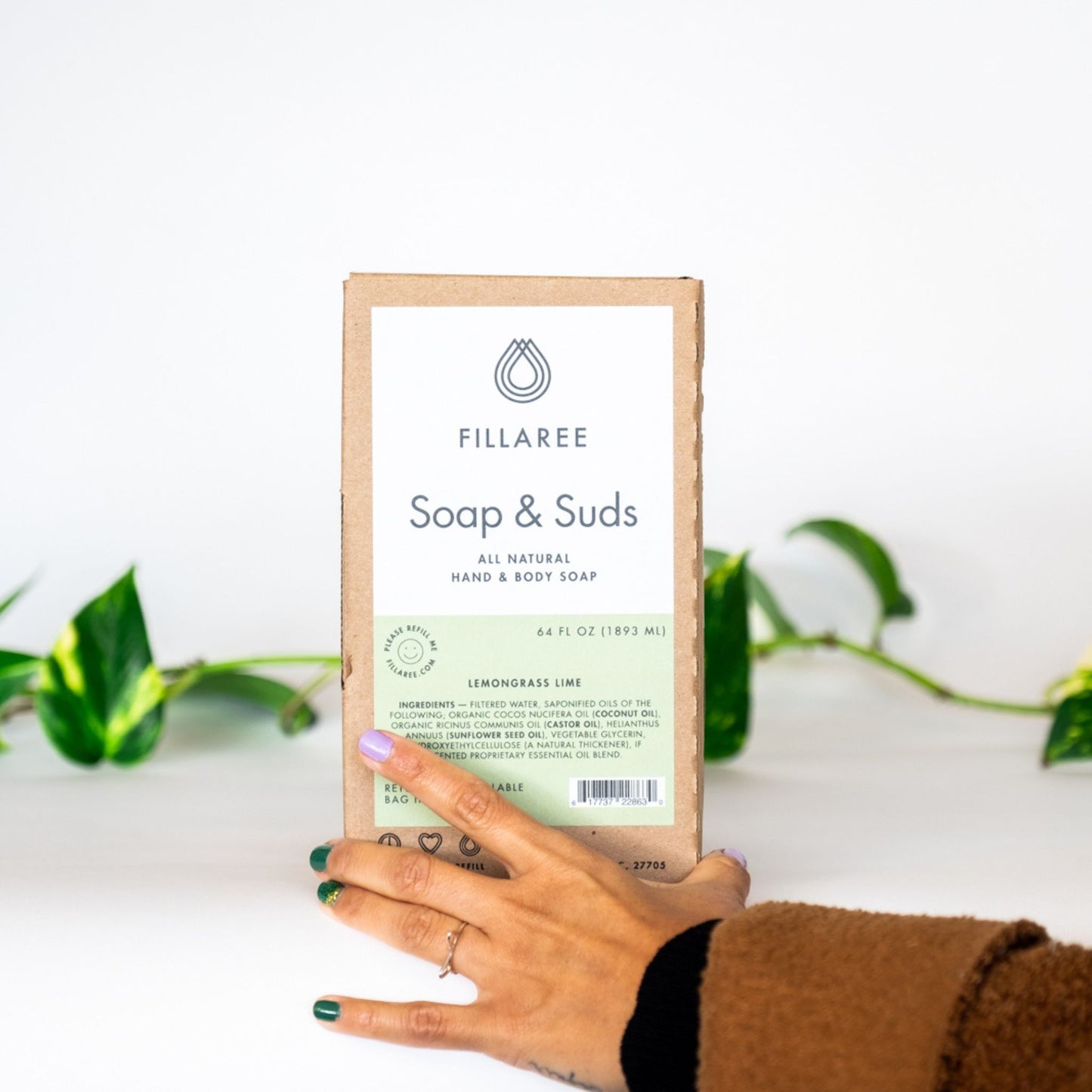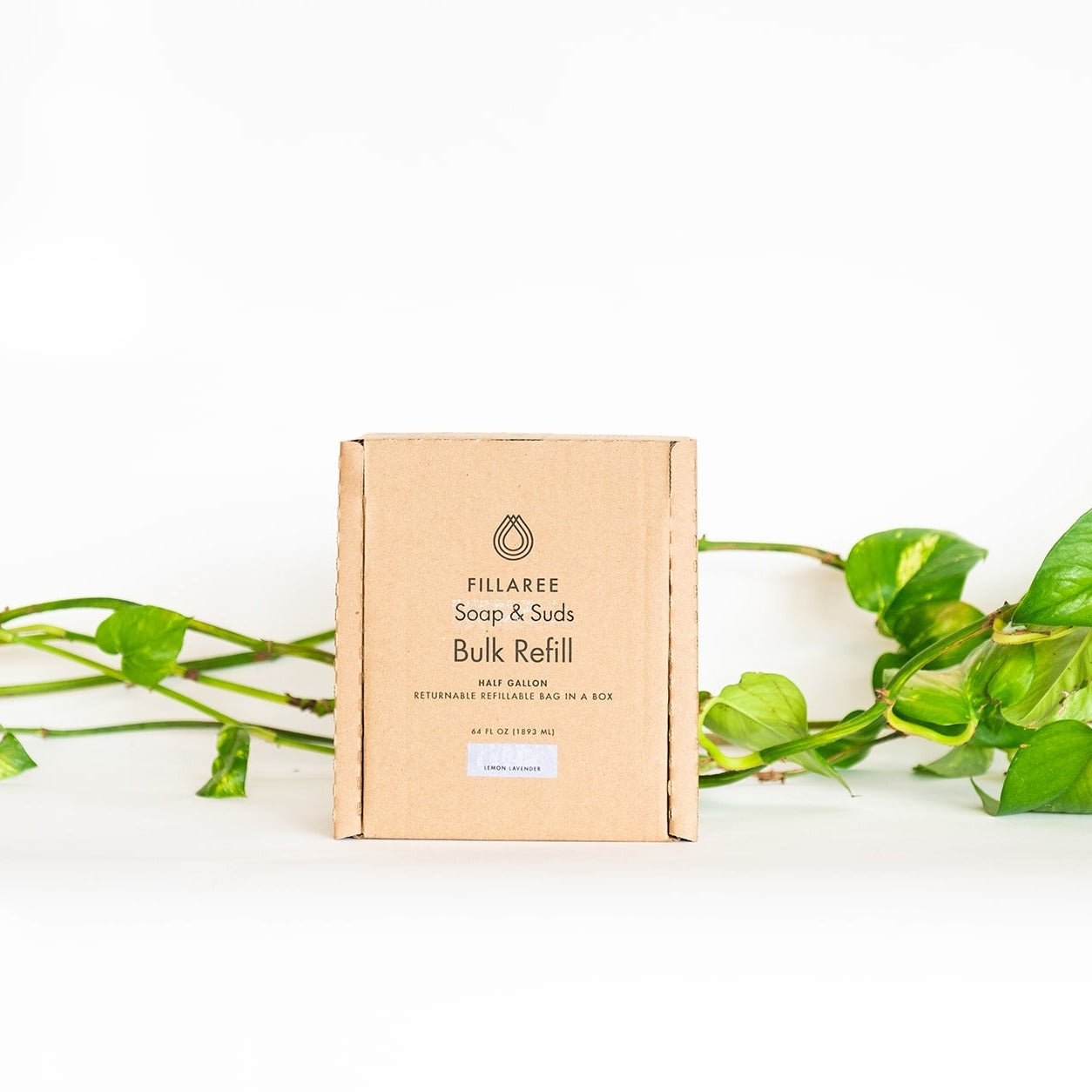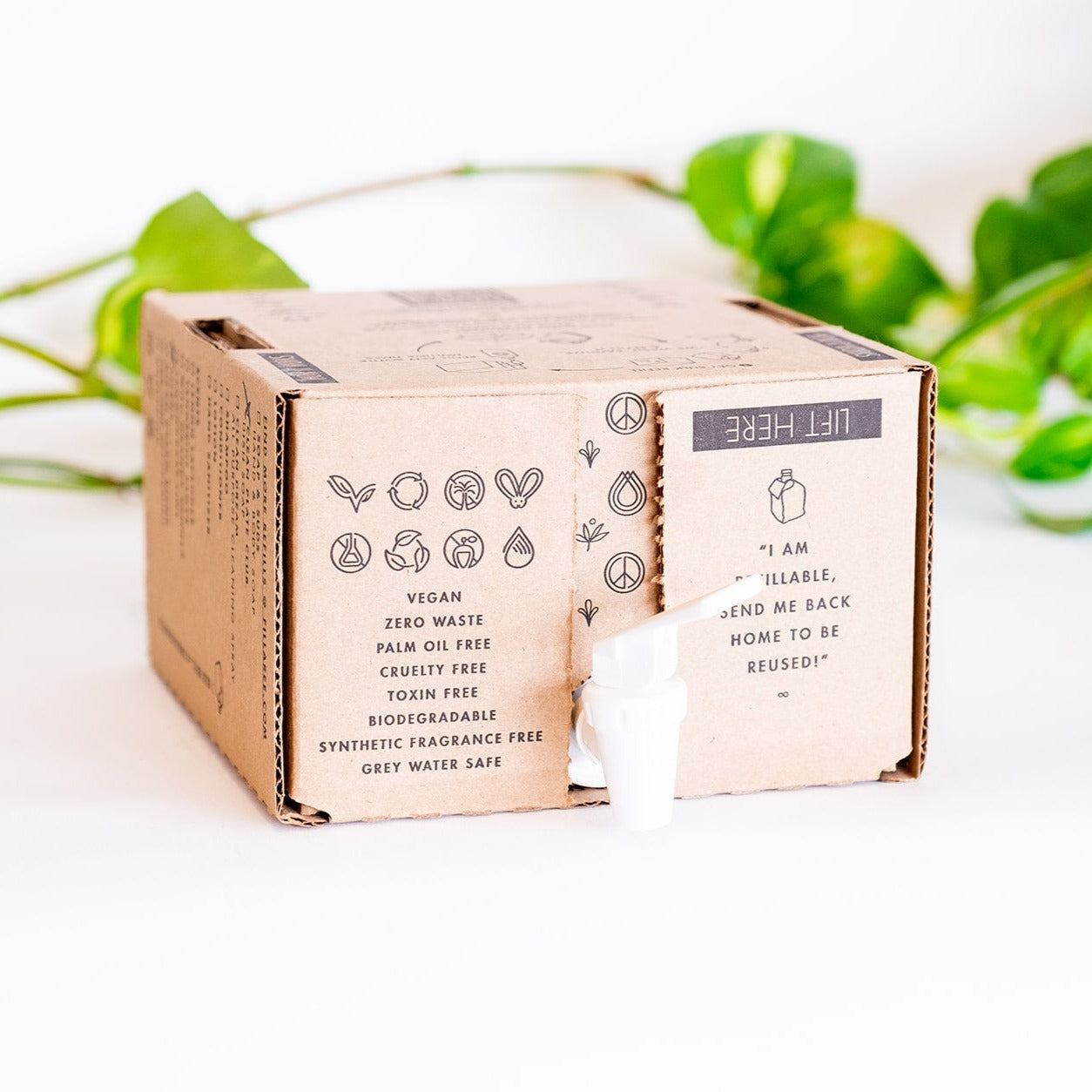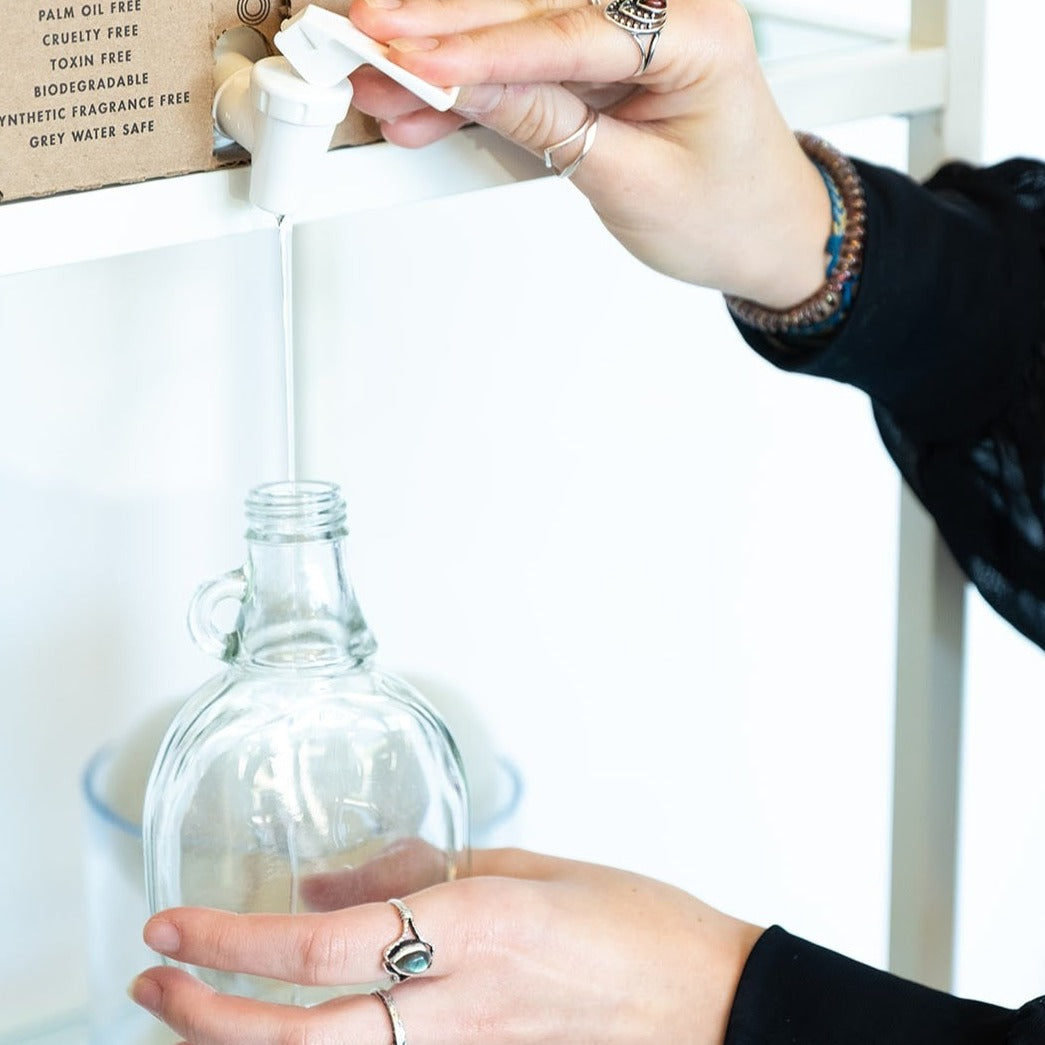 We make all our products with love & care
Ingredientes

Distilled Water, Saponified oils of the following; Organic Cocos Nucifera (Coconut) Oil, Organic Ricinus Communis (Castor) Oil, Helianthus Annuus (Sunflower Seed) Oil, Vegetable glycerin, Essential Oils Blend, Hydroxyethylcellulose (a natural thickener), If Scented Proprietary Essential Oil Blend.

Shipping Information

Great news! You can enjoy FREE SHIPPING on all refill and starter kit orders!
How do your subscriptions work?

Pick your favorite product, scent, and how often you want a refill. You can either buy our bottles or use your own. We always ship your refill and bottles using plastic-free and compostable materials.
How I send the bags back?

Instead of tossing your empty bags, send them back to us once you've accumulated 3-5. Simply use the pre-paid return label and we'll take care of the rest. We'll thoroughly wash, sanitize and reuse your bags, this helps reduce waste going to the landfill.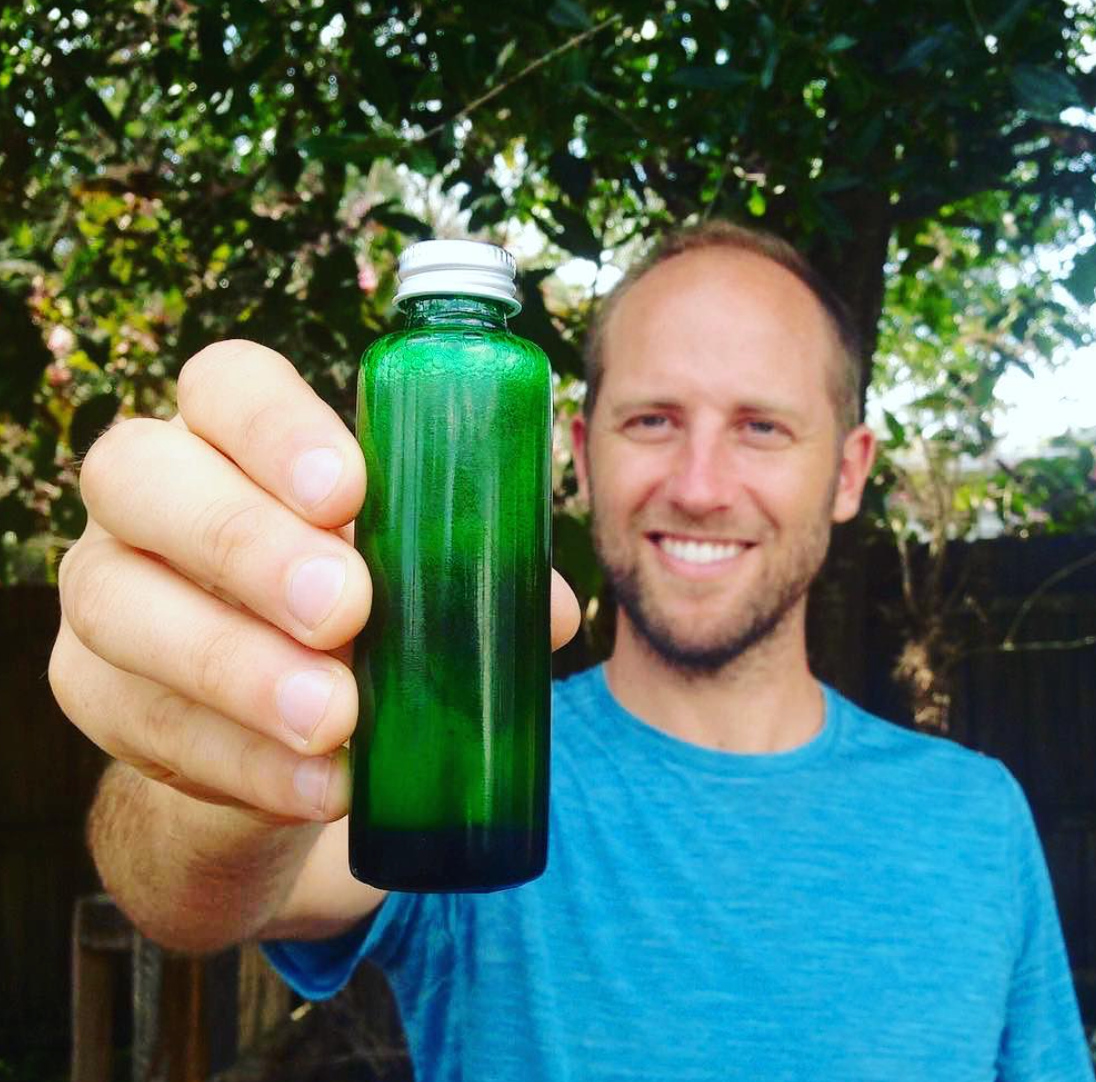 "I love Fillaree! They are true embodiment of the zero waste moment and the change we need to see in business in the world. They are helping people to decrease their waste and live in a manner that it's in better alignment with our earth."
Soap & Suds - Home Refill System
Wonderful
Love the fragrance. Makes by bathroom smell great
Works wonders--and so easy!
We've used several Fillaree products over the years, and I only recently opted for the subscription service for home refills. Game changing! The products we love come without any hassle, and we're still able to return the containers for reuse. "Smooth" in every sense of the word! : ) : )
Obsessed
Love the texture and the scent so much! The design of the bottle is just beautiful
Love this refill!
I'm often short of time to pick up from the shop, and this is the best sustainable soap I have found - it last a single person about 6 months as hand soap and occasional hand-laundry soap, the bags can be recycled, too, and it smells and works great.